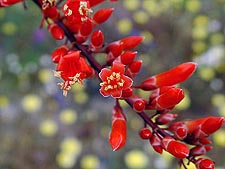 Our Destinations
---
• Smugglers Canyon
• Carrizo Badlands Overlook
• Carrizo Creek
• Carrizo Badlands
• The Slot
• The Pumpkin Patch
Our Route for this Trip
---
• From the Los Angeles area, head east on HWY 91 until you hook up with I-15.

• Take I-15 south and head towards Temecula.

• Once you reach Temecula, exit on HWY 79 south. Do not confuse this with Winchester Road which is the first HWY 79 you will see.

• Take HWY 79 past Warner Springs and then head east on S-22.

• About 5 miles from where you turned on to S-22, you will come to the S-2 Junction. Take the S-2 which will head south.

• In just over 12 miles, you will reach HWY 78. This is the Scissors Crossing. Make a right turn here and then make an immediate left back onto S-2 once again heading south.

• Keep heading south for about 15 miles or so until you reach the Vallecito County Park and Campground. Travel just another mile or two and keep an eye open for the Smugglers Canyon parking area which will be to your left. This area is not marked.

• From Smugglers Canyon, head south again on S-2 for about 15 miles until you reach the Carrizo Badlands Overlook.

• From the overlook, backtrack north just a bit and make a right at the first turn off. This will be Canyon Sin Nombre, your route into the Carrizo Badlands.

• In about 4.5 miles, you should reach Carrizo Creek. Make a right turn into the creek which will take you east.

• Carrizo Creek trail will take you east 3 miles and all the way to the edge of the Carrizo Impact Area which is closed to the public. However, you will find the old Carrizo Stage Station Site here.


• Backtrack the way you came except when you reach your original turn off, make a right onto Vallecito Wash (aka. the Overland Stage Route) which heads northwest and will ultimately take you back to the S-2

• Back on S-2, head north until you reach HWY 78 and then make a right which will take you east.

• Take the 78 east about 14 miles until you reach Borrego Springs Road. Keep heading east on the 78 for 1.6 miles and then make a left turn on the dirt road that you will come up to. This will be Buttes Pass Road.

• About a mile up Buttes Pass Road, you will come to a fork. Stay to the left and you will be take up to the Slot.

• From the Slot, backtrack the way you came until you reach Buttes Pass Road and then make a left which will take you north.

• Buttes Pass Road will eventually become the Cut Across Trail 2 miles up the way.

• Keep following the Cut Across Trail for about 4-5 miles and then make a right turn into Banks Wash. This wash will arc around and then head back north taking you to the Pumpkin Patch.

• From the Pumpkin Patch, take Tule Wash east which goes all the way over to HWY 86 and then 86 north until you reach I-10 and then home.



NOTE:

For the record, we did not take Banks Wash as I have indicated in this route log. What we did instead was try and take Basin Wash to the Pumkin Patch and got seriously lost. Driving over difficult terrain and following motocycle tracks, we eventually found ourselves on the wrong side of a boundary fence. With some effort, we did manage to find a route around the fence that ultimately hooked back up to the Banks Wash route and then the Pumpkin Patch.

Resources

---
• AAA San Diego County Map
• Map from the book The Anza Borrego Desert Region by Lindsay.
• Guide to Southern California Backroads & 4-Wheel Drive Trails



Desert Wildflowers Trip 2005
Anza Borrego Desert, CA

03/20/05

---
I swear, it never fails. Once again, as we headed out to Anza Borrego on this trip, mother nature decided to get us a little wet.... make that soaking wet and it didn't let up until about mid-day!! Okay, I just had to get that off my chest.

Unlike our previous trip a few weeks back, we decided to look for a better and less crowded location to camp and see all the wildflowers blooming in Anza Borrego. Well, after doing a little research online, I found that a small area just off S-2 and south of highway 78 called supposed to be heavily in bloom right now and so that's where we decided to start our trip.

---
Smugglers Canyon

---

After a leisurely breakfast at the IHOP in Temecula, we filled up our gas tanks, picked up some last minute provisions and then headed off for Anza Borrego. To get away from the hordes of people we saw just a couple of weeks before, we decided to steer clear of all the obvious tourist traps (just about anything in and around Borrego Springs) and headed down the S-2 towards the southwestern edge of the park.

Our first destination was going to be Smugglers Canyon which is right off the S-2. There is a hiking trail here that heads north towards Whale Peak and goes to a site where Indian pictographs can be found. I think it's safe to say that we would have done the hike if not for the fact that we got stuck at mouth of the canyon with cameras in hand, mesmerized by the explosion of color.

Carrizo Badlands Overlook

---

Leaving Smugglers Canyon, we continued south until we reached the Carrizo Badlands Overlook. The view from this vista point really is a sight to see but as an added bonus, all the Ocotillos in the immediate area were in bloom too. From here, we backtracked just a few hundred feet up the S-2 and then turned off onto Canyon sin Nombre.

The landscape in Canyon sin Nombre was relatively dry and harsh compared to what we just left. In some areas, the walls of the canyon exposed uplifted and folded sedimentary layers but for the most part, they were made of mud and riddled with slots just itching to be explored.

Carrizo Creek - Vehicle Recovery

---

Out of Canyon sin Nombre, we proceeded east up Carrizo Creek and planned to have lunch at the old Carrizo Stage Station Site. I say planned because on the way there, we encountered a small group of trucks, two of which had gotten very stuck in deep mud. Thanks to all the rain we had earlier in the day, the trail had become a sticky and gooey marsh with a deceivingly dry surface crust on top. Need I say, my family and I decided to spend the next hour or so helping to dig and winch them out. We never did make it to the old Carrizo Stage Site but we sure did have a lot of fun helping out where we could.

---

After our recovery work was done, our daylight was quickly fading so we decided to head back a bit to dryer ground and setup camp for the night. As always, we feasted that night on some super delicious filet mignon that Yvonne prepared for us, YUM!!

The next morning, we packed up early and then decided to hike and explore the many slot canyons immediately around us. There weren't nearly the amount of wildflowers that we saw the previous day but there were still quite a few around and even more of something a little less pretty... caterpillars!! Actually, there were tons of these bugger and to describe them more accurately, they were huge! By 9:00 am, we were back at out rigs, loaded up our gear and were on our way again to our next destination, the Slot.

---

On our way out, we headed north up Vallecito Wash (instead of backtracking up Canyon sin Nombre) which ultimately hooks up to S-2. Once on S-2, we headed north and then headed east on HWY 78. Just passed Borrego Springs Road, we turned left onto Buttes Pass Road and made our way to the Slot.

Of all the places to visit and explore in Anza Borrego, the Slot is one of my more favorite stops. Very easy to get to and relatively close to town, the Slot is like a dissection through the landscape, slow cut open by time and water. If you're claustrophobic or on the fat side, I wouldn't recommend this hike.

---

Leaving the Slot, we headed up Buttes Pass which eventually becomes The Cut Across Trail and headed to the final destination on our trip, the Pumpkin Patch. Our plan was to stay on this easy but annoying trail (basically a motorcycle route with a ton of whoops on it) until we reached Basin Wash, but somewhere along the line, we took a wrong turn, got very lost, followed some old motorcycle tracks, made our way over some very difficult terrain (I'm still amazed that a Sportsmobile 4x4 van could follow me through all of it) and then found ourselves on the wrong side of a boundary fence... Argh!! With some effort, we did manage to find a route around the fence that ultimately hooked back up to the Banks Wash route and then the Pumpkin Patch.

In the end, all I can say is what a let down. I had never been to the Pumpkin Patch before and that's the only reason why we went. Had I known it was going to be just a small patch of a few rocks, I would have spent more time taking pics of my Jeep flexing out on the trail we just came on instead of worrying about daylight. Oh well, you live and learn and now I can say I've been to the Pumpkin Patch.
With the day quickly waning, we headed out of Anza Borrego State Park on Tule Wash. This wash hooked up to HWY 86 over by the Salton Sea and will take you north to I-10 or south to I-8.

---