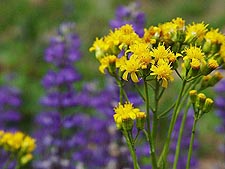 Hikes
---
Click on the links below to see write-ups of the trails we hiked on while up in Tahoe, CA.
Tahoe Trip

August 2003

---
Once again, my family and I were able to find some time and head up to one of our most favorite places in California.... Lake Tahoe. This trip would be the 6th year in a row that we been able to come up to this majestic place and I can only thank God and the generosity of Gil and Jackie (Cindy's parents) for making it possible. I also want to thank Mark Anderson for taking us out on the lake in his awesome boat. It has been an especially difficult year with all that's been going on at Marina Ranch and at work so you can be assured that this vacation was well needed!!

So, what was the highlight of the trip? Taking the beautiful Woods, Round Top and Winnemucca Lake hike. Although it was the middle of August, you would never know it with all the lovely wild flowers and patches of snow everywhere. This is an easy 5 mile hike and a must do if you ever find yourself up in the Lake Tahoe area.

Below are pics from our trip. Click on the thumbnail images to see a full size photo.